Dé Sathairn 11 de Mhí Feabhra 2012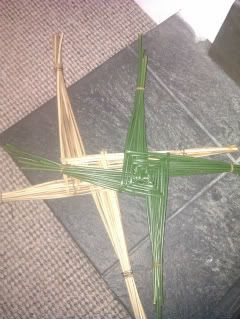 Bhuel Lá Fhéile Bríd go déanach! I've been meaning to get something up earlier for this(as well as many other things that succumb to internet procrastination, but found the right wee bit of time being an early morning Saturday insomniac. I was going to create a post called "Christian Appropriation" to explore common debates aroound this time such as syncretic Christian iconography adopted into Pagan practices, but perhaps that'll do for another time. In the mean time, thought I'd share something I had written before in spirit of the occasion.
Brighid, Briganti, Brigit, Briga, e.t.c is a Celtic Goddess, and Irish Saint, whose parallel comes up frequently in topics focused on Paganism and Christianity. That parallel is what I intend to focus on, so just briefly touching on the nature of this Goddess...
The etymology of her name literally means "exalted one", a pseudonym that Celtic inhabitants around high hills used for their mother-goddess.(Briganti) This Goddess was the sovereign Goddess said to give her name to Britain, and the famed tribe that controlled central Britain based around the Pennine Hills called the
Brigantes
, with Briganti their principal Goddess. Off-shoots of this tribe settled in the south-east of Ireland around the 1st century A.D. Many scholars believe that her cult was brought to Ireland with these settlements, with Brigit (Brighid) being her Irish adaptation.
In the myths and literacy creations, Brighid is a Poetess of the Tuatha Dé Dannan, and daughter of the Daghdha, with two sisters of the same name. She was a guardian-goddess of domestic animals, and patroness of smithcraft and poetry. A 9th century glossarian wrote that,
"among all the Irish, a goddess used to be called Brigit
." A few Irish rivers were given the name Brighid, along with many hills called Brí. It was said that Brigh was the first to weep and shreik to the dead, being a defender of the Laigin(Leinster), terrifying enemies appropriate for a territorial sovern goddess. This indicates that like Danu and Mór-Ríoghain, Brighid was another aspect of the mother-goddess in Ireland.
St. Brighid, Brigit, Bríd, of the Fotharta, Mary of the Irish/ Muire na nGael, is an Irish saint reputed to have lived C. AD 439-524, however practically nothing historical is known about her. Her cult had political importance with the rise of the Uí Dhúnlaige Leinster sept, so a Latin biography called
Vita Brigitae
was written in 650 by a cleric under the pen name Cogitosus.A shocking feature to many scholars about the text is the lack of any historical information about Brighid who supposedly lived a century earlier. It's mostly composed of miracles such as multiplying crops&stock, healing the sick, and even changing the weather(akin to rumoured feats of druids, and prayers to the Goddess Brighid) and the importance of Kildare. Not only does the saint share her name with the Goddess Brighid, but it's highly coincidental that her feast day, Lá Fhéile Bhríd, falls on the same date as Oímelc(Imbolg), the pagan festival of spring and turning point of the Celtic year, also connected with the goddess. Oímelg is taken to mean "in the belly", connected with lactation, and ewes milk. Is associated with the birth of farm animals in which the saint and goddess also happen to be patronesses of.
Kildare itself, Irish Cill Dara, means "Church of the Oak tree." This suggests that the site was a sacred pagan one, by the presence of oak groves sacred to the people we now refer to as "druids", and some accounts even state Brighid was the daughter of a druid. As F.J Byrne stated in
Irish Kings&High-Kings
, It's sceptical to doubt the existence of an actual Christian Saint of Kildare, but it's likely that a holy woman of the Fotharta Christianised a pagan sanctuary at Kildare, and borne the name Brighid, common among druidresses. The synthesis between Paganism and Christianity would have met less resistance under the name of Brighid, and much of Saint Brighid's lore contains elements of druidic practices keen for Christian propaganda. It's widely believed that the goddess's presence in the Gaelic mind was so strong, she was simply canonised as a saint.
Her cult was prominent in Leinster, and south Ulster, especially in Kildare and Faughart(where some sources even claim to be her birth), and much of her lore even spread to Scotland and Wales. Kildare and Faughart are still rich with her lore. Folk customs, especially on Febrary 1st like solar&St. Bríde's crosses (cróssog na Bríd), maintain lines to the Goddess Brighis, and well as being the feast of the Saint. Outdoor shrines, especially around sacred spriongs, as well as offerings and well dressings are all remnants of Ireland's pagan past, and living traditions of both Pagan and Christian Gaelic Traditionalists, as you can see here in the pics we took of her shrine at Faughart, Co. Louth...